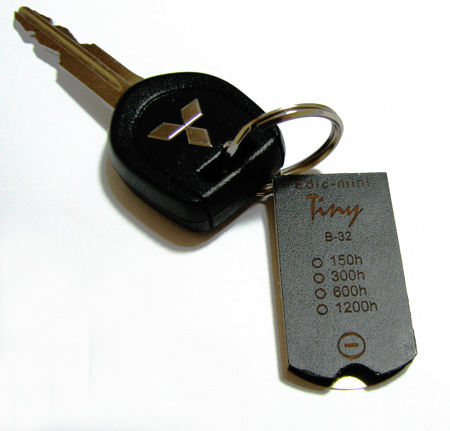 For the time being the following model has been upgraded:

Еdic-mini Tiny В32
One-touch recording and lots of extra features. Tiny but mighty – outstanding battery life (90 hours) and up to 8GB internal memory.

В32 - the rear panel of the case has been upgraded with the hole for battery removal. Now you can easily take out the battery of any manufacturer with the help of a clip. The cases for this product are coated with black tactile lacquer.

B32 audio recorder is a perfect choice for those who require a tiny and convenient shape and high quality recording.  Choose your variation -  the recorder with silver metal or golden metal rectangular case.

The B32 model is presented in a wide range of modifications (150h – 1200h). The recorder consumes power from 1 CR2032 battery and can be operated with slight pressing the membrane button, situated on the recorder's case. A small textile strap that is available in the shipping box, it can be used for wearing the recorder around the neck. You can also use the recorder as a key trinket. The device can be connected to PC via USB port with the supplied cable.

You'll find a more detailed description here.

Among the other improved audio recorders are:


Еdic-Мini Tiny В30 – case assembly technology has been changed. As a result the upper lid of the Recorder stopped getting broken.
Еdic-Мini Tiny B22 - the switch has been upgraded. As a result the quantity of broken switches dropped considerably.
Back to the news list