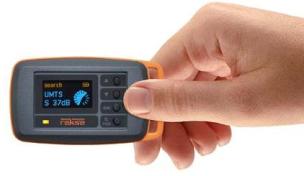 Summer-2014: Don't miss the best price for RAKSA iDet!
For 10 or more units of RAKSA – 400 USD per unit!
For 20 or more units – 360 USD!
RAKSA iDet Selective RF Detector can be used to detect and locate in the near field a wide variety of radio transmitters used for secret access to information.
Main competitive advantages:
•
Miniature dimensions (77×43×18 mm)
•
High speed of scanning and analyzing (1.0-1.5 sec.)
•
Selective reception of radio signals
•
Operation in guard, sweep, search, difference search modes
•
Detection of wideband and digital signals
•
Soundless alarm indication (vibration mode)
•
No need for external antenna
Technical characteristics: 
Frequency range: 50-3300 MHz
Typical sensitivity: 70 mV/m
Dynamic range: 50 dB
Bandwidth: 10 MHz
Period of full scanning cycle: ≤1.5 s
Running time in guard mode: 4-12 h
Running time in other modes: 3 h
OLED display: 128×64
Dimensions: 77×43×18 mm
Weight: 35 g
Please see the detailed description 
here
.
Back to the news list