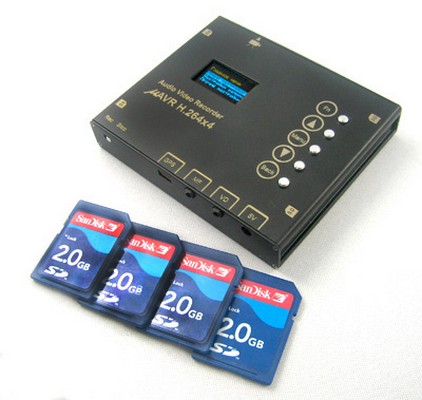 Video Recorder MAVR-H264x4 is intended for professional recording of video and audio data either from an external source or from built-in video camera and microphone onto SD or SDHC flash memory cards at the capacity up to 32 Gb. The recorder provides the opportunity to insert up to 4 memory cards for alternate continuous recording.

What's new:

•    bitrate (recording speed of video data onto memory card)  enhanced up to 2 times which provides improved video recording quality;
•    opportunity to use up to 4 SD cards: each up to 32 Gb, which means that maximum recording capacity is up to 128 Gb;
•    three times as enhanced rechargeable battery capacity (compared to mAVR H264).

Control and indication of operating modes are the same as in mAVR H264S.

Power system parameters:
•    Rechargeable battery: Li-ION (2200 mAh)
•    Battery life in record mode, hours: 8
•    Battery life in stand-by mode, months: 12
•    Charging time from an external source, hours: 5

Main specifications:
    Dimensions: 70x82x15 mm

    Video recording either from an external source or from the built-in recorder video camera (AVC format, H.264) providing resolution 640x480 for video camera or 720x576 (for an external source)

    Disposition of text onto video signal (date, time, GPS data, text line) – up to 2 lines with 24 symbols each (depending on the resolution selected)

    Option to set video signal parameters (brightness, contrast, saturation, color)

    Opportunity to set time and date according to GPS signal

    Starting the recording by switch, timer, control input signal, motion detector or VAS (Voice Activating System) actuation

    Opportunity for circular recording onto memory card (one or several)

    Video signal scaling (image compression) and cropping up to 96x96

    Adjustable video signal filtering

    Independent setting of bitrate for audio and video stream

    Adjustable frames per second for video stream

    Elimination of flickering caused by day electric lamps etc (at the frequency 50 and 60 Hz)

    Power supply either from an external source or by built-in Li-ion rechargeable battery. When powered from an external source rechargeable battery is charging

    Parameters setting through menu or with the help of manager program

Optional accessories:
•    Analog-to-Digital Adapter for mAVR H.264
•    GPS-receiver for mAVR H.264
•    External microphones for mAVR H.264

Detailed description of mAVR H.264x4 – here.

You are welcome to contact us for any further information.
Looking forward to hearing from you. 

Back to the news list