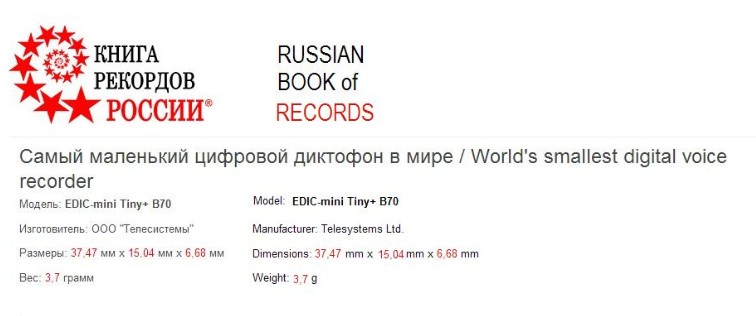 Dear Friends!
We are happy to inform that our
EDIC-mini Tiny+ B70 has registered in Russian Book of Records
as the smallest digital voice recorder!
(Screenshot with translation)

Here is the direct link of record - http://knigarekordovrossii.ru/index.php/rekordy/244-ginnes-rossijskie-rekordy/1546-samyj-malenkij-tsifrovoj-diktofon.html
Voice recorder B70 features:
Dimensions: 37x15x7 mm.
Weight: 4 g (without battery).
Power supply: battery.
Battery life in record mode: 10 h (in mode 8 Hz/8 bit).
Case material: plastic.


P.S. We are also in process of getting status of smallest digital voice recorder in the whole world… Follow the news!
Back to the news list