Dear Partners!
We present Portable Metal Detectors designed to 
search for metal objects in the dielectric and low conductive media.
Handheld Metal Detectors may be used in:
- MoI, bank security services, companies, customs, etc. to detect luggage containing cold steel and firearms, explosive devices, smuggling goods, etc., and different types of metal insertions in room walls, furniture;
- field military surgery to detect bullets and splinters in human's body;
- building construction to detect position of reinforcement bars, hidden wire cables;
- archeology.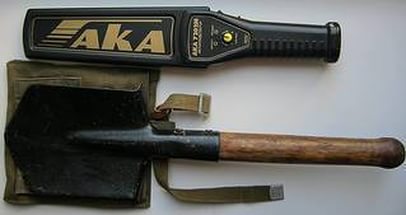 Also our portable detectors are often used as a supplement to ground metal detectors for precise location of objects. For instance, when full-sized metal   detector recognizes small object under ground, then searcher digs up area of ground   pointed by metal detector. And using our handheld metal detectors it is very easy and   fast to localize small metal objects among excavated soil.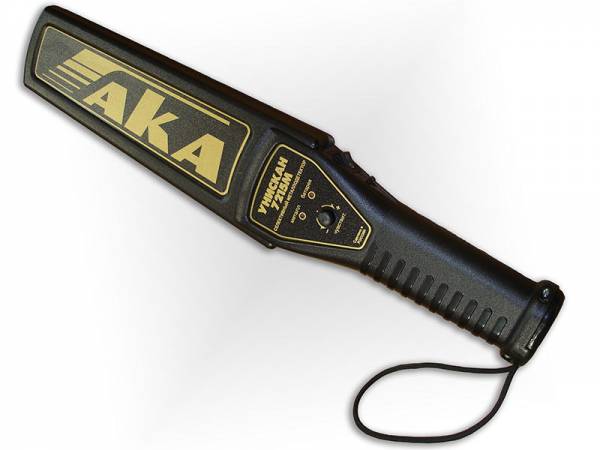 We advise you model Uniscan 7215M
The model distinguishes objects of ferrous and non-ferrous metal, has audible and visual alarm. For instance, the detector allows  it to distinguish Makarov gun from any portable household item made of non-ferrous metals.
Uniscan 7215M may be used to detect ferrous metals only. Dimensions 400х145х35mm, weight 260g.
Maximum detection range of metal objects, mm:
| | |
| --- | --- |
| Makarov pistol | 300 |
| Drain hatch | 800 |
| Screw M3×7 | 80 |
| Brass disk 25×1 | 150 |
Please see the detailed description here

Another promising model AKA 7202M
The model distinguishes with high sensitivity and scanning pace, provides low power consumption and ergonomic design (dimensions 415х85х35mm, weight 410g). The model may optionally be supplied with inspection mirror and lantern. AKA-7202M also features a built-in automatic battery discharge control.
Maximum detection range of metal objects, mm:
| | |
| --- | --- |
|  F-1 grenade  | 150 |
| Makarov pistol | 180 |
| Sword-bayonet for AKM submachine carbine    | 120 |
| Bandsaw blade of 150 mm length | 90 |
| Safety razor (non-magnetic stainless steel) | 30 |
Please see the detailed description here
Back to the news list