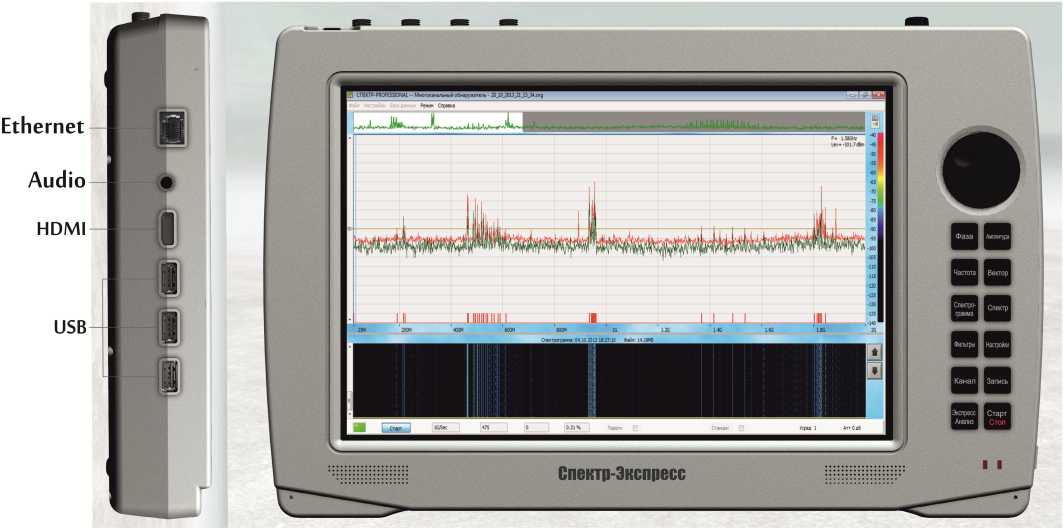 Portable complex for eavesdropping devices search SPECTR-EXPRESS
now available in our product range! 
Spectr-Express is designed to detect radiation of radio microphones, radio stethoscopes, hidden wireless cameras, as well as to detect signals from eavesdropping devices in 220V mains, low-voltage lines (fire and burglar alarm systems, telephone lines) and in infra-red (IR) range.
Device uses up to four spaced antennas for searching, parameter estimation, identification and localization of emitters in the frequency range 10-3000 MHz or 25-6000 MHz
Main competitive advantages:
 • Spectr-Express detects eavesdropping devices, including those using: digital modulation types, noise-like structure, mode of pseudo-random or specified adjustment of operating frequency, ultra short pulses, etc.
• High performance allows the complex to detect signals from radio (wireless) microphones operating in mode of information accumulation and short-term transferring it to broadcast.
• Detection and differentiation of signals are performed by parallel digital spectrum analyzer with resolution of 2 kHz.
• Its high resolution enables detecting and distinguishing narrowband signals from microphones, operating close to legal radio equipment.
• There is ability to remote control the device via local network and Internet.
• The complex displays detected image from hidden wireless cameras.
• Detected signal can be saved in PC's memory for later analysis.
Tactical and technical characteristics of the complex Spectr-Express
Frequency band, MHz

10-3000

25-6000

Wire lines converter frequency band, MHz

0.0006-10

IR sensor spectral range, nm

320-1100

Panoramic view speed (resolution 2 kHz) up to, MHz/s

1150

Swath, MHz

0.1-50

Resolution (analysis mode), kHz

0.2

Resolution (detection mode), kHz

2

Antenna input sensitivity at least, uV

2

Digital demodulators

NFM, WFM, vector

Processor type

Intel Core i5

Operation system

Windows 7

Memory, Gb

64/128

Screen size, in

12.1

Screen type

Touch

External connectors

USB 2.0*3

HDMI LAN

AC power, V

220

On-board car power, V

12

Rechargeable battery (Li-ion), V

12

Battery life in operation mode at least, h

2

Dimensions, mm

385x250x55

Weight, kg

3.8
To see the detailed description please click here
Back to the news list