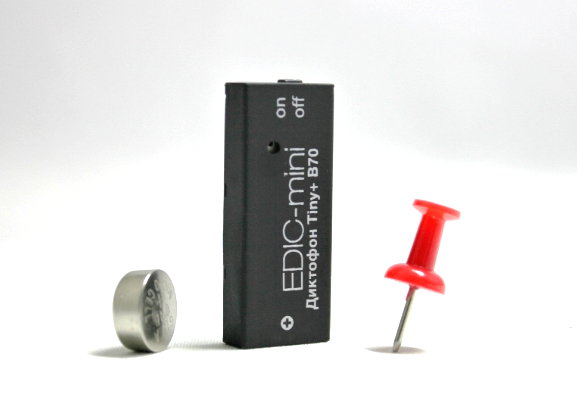 We are delighted to launch Edic-mini Tiny+ B70 new model of audio Recorders with broad functionality 
     This recorder is, in fact more compact, than its predecessors listed in the Guinness Book of Records (Edic-mini Tiny A31 - 29x15x12 mm). Its dimensions are 37x15x7 mm, weight is only 7 g, but nevertheless it has attractive characteristics, providing from 10 to 70 hours of recording time, depending on selected Mode (Record or VAS) from standard RL43 battery. Moreover, 4 Gb of removable memory card allows to record up to 150 hours (in the mode 8kHz, u-Law).  
Technical characteristics
Case: plastic;
Battery life in record mode: up to 10 hours;
Battery life in VAS mode: up to 70 hours;
Battery life in stand-by mode: up to 9 months;
Interface: USB 2.0;
Frequency band: 100 — 10000 Hz;
Dynamic range: -65dB;
    The simple and consistent design of the model was appreciated by many audio recording specialists. The combination of convenient interface, super-miniature size and multiple functions of the recorder made it an excellent purchase!
Please find more detailed description 
here
Back to the news list