Dear partners and guests of our web-site!
We are proud to introduce new representatives of quality and duration, latest series 
models Edic-mini Tiny+ A82 and B80!
The models possess high autonomy and small sizes. The recorders' microphone is distinguished by high sensitivity and low noise level providing professional audio recording from up to 12 meters. Moreover recorders packed in a robust metal case, which protects them from damage and enables convenient exploitation.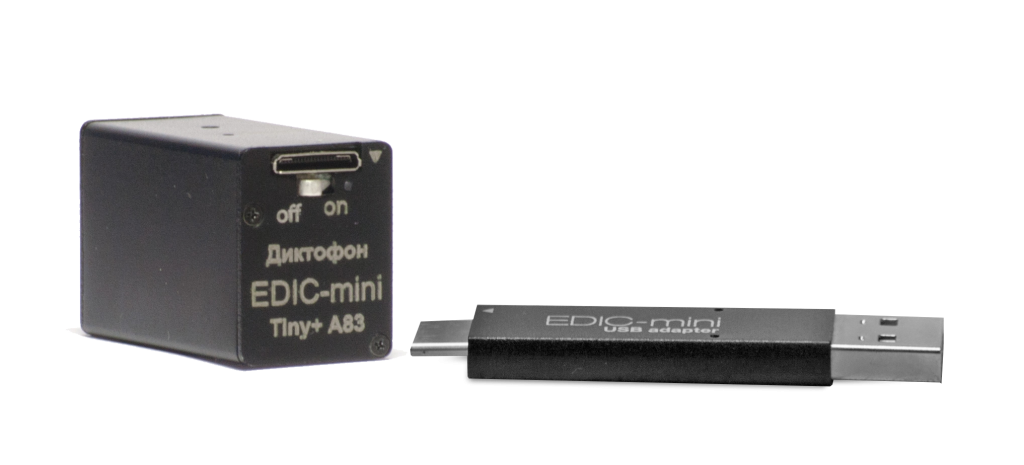 A83 is truly professional audio recorder for those who need to make a long recording without charging. The main distinctive feature of the device is exceedingly powerful Li-pol battery 800 mA/h enables up to 200 hours of continuous work that allows in VAS mode to record up to 30 days or 720 hours! So using not only linear but also circular mode you may rich constant recording. Together with high quality recording it is simple and easy to use. 
Dimensions: 38x18,5x23,5 mm;

Weight:  26g (with rechargeable battery);

Battery life in record mode: up to 200 h.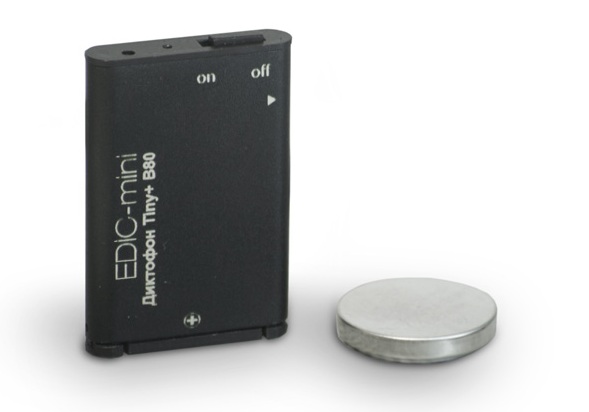 B80 the most bright representative of new professional voice recorders Tiny+ series.It is hard to imagine, but in such miniature case, the device enable to record up to 250 hours! Due to miniature size, low weight and solid metal case the device is easy to carry and always keep on hand at the right time to promptly record. Due to standard battery (CR2450) power supply, it can be quickly replaced when discharged. So you can replace the battery  and record until the memory is full!
Dimensions: 48x32x7 mm;

Weight:  10g (without battery);

Battery life in record mode: up to 250 h.
Other functions of the recorders:

-

Recording is enabled with Switch, Voice Activation System (VAS), or daily and once timers

-

LED Indication of the recorder's operation 

-

Linear and circular record modes 

-

The system of digital markers, allowing it to determine the authenticity of record 

-

High-speed USB 2.0 (up to 7 Mb/s) 

-

Built-in clock and calendar
It's interesting… 
All our audio recorders feature Voice Activating System (VAS), which effectively compresses pauses in messages, therefore increasing the actual record duration. Activating VAS allows the user to save memory in pause.
Did you know that: with our updated version of the operational program EMplus you can also playback, upload to the PC, edit and erase records; configure recording, and set the desirable ratio of quality/duration; connect and configure optional functions and options of the recorder (timers, VAS etc); playback records directly from the recorder without uploading them to the PC and a lot more!
Back to the news list