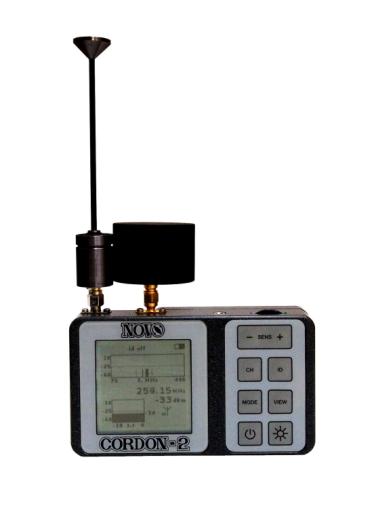 Dear partners! 
We are happy to offer new model of frequency and power meters series - CORDON-2 
      This is an updated broadband radio receiver intended for searching and locating low power sources of electromagnetic radiation in wide frequency range.
      The device can not only
detect
radiation of secretly installed radio transmitter in the premises given, but also
measure its signal frequency
and assess
power of electromagnetic radiation
at the receiving end. 
      The product is also applied to estimate the change of electromagnetic field according to temporal and spectral field phase diagrams.
     The analyzer makes it possible to detect and locate both eavesdropping devices (bugs) and communication devices operating in the frequency band of the following standards: GSM900/1800, AMPS/DAMPS, CDMA one, CDMA2000, UMTS, DECT, IEEE802.15.1 (Bluetooth), IEEE802.11a (Wi-Fi 5GHz), IEEE802.11b, IEEE802.11g (Wi-Fi 2.4 GHz), IEEE802.15.4 (ZigBee), LTE (4G).
Technical characteristics
Operating frequency range, MHz

0,1÷12000

Dynamic range, dB, at least:

- 0,1÷440 MHz

- 440÷6400 MHz

- 6400÷12000 MHz

70

55

45

Sensitivity when measuring input signal level, mV, at least:

- 0,1÷440 MHz

- 440÷6400 MHz

- 6400÷12000 MHz

0,225

1,25

2,25

Channels' sensitivity of detecting mobile communication devices, mV, at least:

2,5

Supply voltage from four AA batteries, V

6,0

Current consumption, мА, up to:

- in search mode

- in microphone excitation effect mode

180

450

Dimensions without antenna, mm

130х34х87

Weight of the main block, kg

0,32
Please see more information 
here
Back to the news list