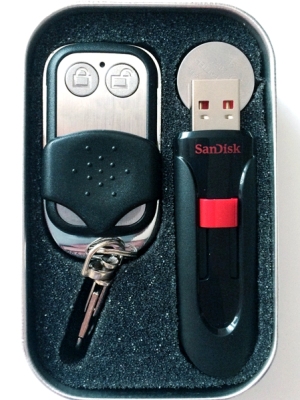 We are happy to present system for private data protection - Flash Keeper!
Flash Keeper consists of a flash drive with an integrated transceiver and a key fob that easily fits in your pocket.
Two wireless devices set up mutual connection, that is broken when the distance between them is more than 3.6 meters. While this, the flash drive is completely blocked. When the key fob is returned to the working area, the connection is activated again and the flash drive is unlocked without any user action. There is an option to enable / disable flash drive using the key fob. Radio link of the system is based on system-on-a-chip modules applying low power consumption technology. The flash drive is powered from the PC or any other mobile device, and the key fob is powered from a small battery. If you disable flash drive, the key fob is disabled automatically within a few minutes.
Key fob has solid and handy plastic case, convenient control buttons, LED indication and power supply from CR-2032 battery.
Please find more details 
here
.
Back to the news list