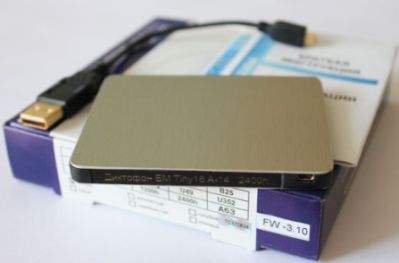 We are happy to present new model of Edic-mini Tiny16 series - A14.
Edic-mini Tiny16 A14 is intended for continuous professional recording of voice information into built-in flash memory.  It is designed for those users who look for such characteristics as big autonomy, long recording duration, high sensitivity of microphone and easy control.
Recorder has metal case with plastic inserts on the sides. Dimensions of the recorder are the following: 90 x 60 x 7 mm, weight: 68 g . To enable Edic-mini Tiny 16 A14 and start recording, simply press and hold the LED button (2-3 seconds), which is in the end of the recorder's case.
The main advantages of the model: 
•
Big volume of built-in memory size - up to 100 days of recording (2400 hours) and battery 2000 mAh
•
Continuous recording up to 500 hours (20 days)
•
High sensitivity of the microphone – up to 12 meters
•
System of digital markers (to identify unauthorized modification of record)
•
Password protection of records 
•
Built-in AGC and VAS systems
Please find the detailed description of the model 
here
. 
Back to the news list