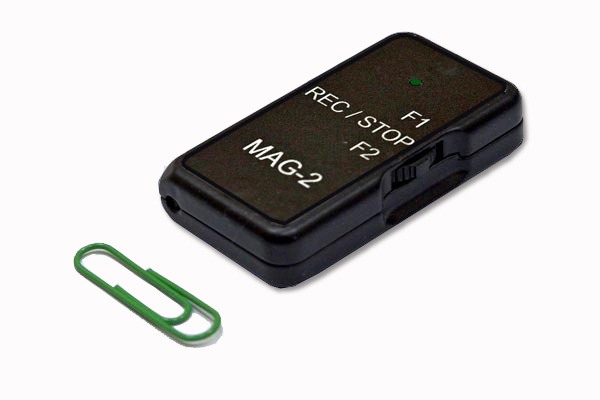 We are happy to inform our dealers about reduced price for new products throughout the spring. Don't miss the opportunity to purchase MAG-2 recorder, VORON detector and CORDON analyzer with 38% discount! 
MAG-2
Miniature digital recorder MAG-2 is intended for high-quality recording of the acoustic information. 
MAG-2 has light and solid metal case, which protects from mechanical damage and electromagnetic control of recorders' suppressors. 
The recorder can record phone talks, conferences, interviews etc. The information records on built-in flash memory, it makes MAG-2 "invisible" for recorder detectors. 16-bit audio codec and absence of shrinking algorithms provides high quality of recording.
Small dimensions and simple interface make the recorder attractive for various users.
Technical characteristics:
Dimensions: 49×26×9 mm
Weight: 20 g
Case: metal
Battery life in record mode: 17,5 hours
Power supply: rechargeable battery
Please see the details 
here
.
VORON
The VORON is designed for quick detection of hidden micro video cameras, including those with pinhole lenses. 
Principle of detection is based on effect of light reflection or "return flare". Thus, when a concealed target is detected, there is a bright red spot (reflection from video camera lens) in the Voron field of vision. 
Main advantages:
-
Wide detection distance: detection distance of concealed video cameras with pinhole lenses (lens diameter is 1 mm) can be from 1 to 50 m depending on operating conditions. 
-
The device is safe for the operator: The VORON employs LED illumination of targets, thus making the device usage safe for the operator (unlike laser illumination). 
-
Operation in optical frequency range allows detecting any optical devices, not depending on their mode (on/off) and type of transmission (radio or cable). 
-
Effective impulse source of power supply insures long operation time on one AA-type battery (1.5 V). 
-
The device is very simple to operate and does not require special skills.
-
Radio interference, electromagnetic shielding, masking gauze and lens hoods do not prevent detection of video cameras. 
-
Excellent optical characteristics of the device: high magnification, wide field of view and exceptional quality of image. 
Technical characteristics:
Dimensions: 50×68×140 mm
Weight: 0.33 kg
Operation on one battery: 6 hours
Find more information about VORON 
here
.
CORDON
CORDON electromagnetic field analyzer is designed for detection and location of low power sources of electromagnetic radiation in the frequency range of 50 - 8000 MHz. Its operation is based on integral measurement of electromagnetic field level. 
Main advantages:
-
CORDON allows identifying transmission of GSM-900, GSM-1800 (DCS) and DECT phones, Bluetooth and Wi-Fi devices
-
The device detects not only unauthorized low power transmission in premises, but also measures its signal frequency and evaluate level of electromagnetic radiation
-
LCD shows all the necessary information: signal parameters (frequency and level), GSM-900, GSM-1800, DECT, Bluetooth, Wi-Fi transmission, level of detection threshold and battery discharge
Technical characteristics:
Dimensions: 179×67×30 mm
Weight: 0.35 kg
Operating frequency range: 50-8000 MHz
Power supply voltage: 4.8V
You can learn more about CORDON 
here
.
Back to the news list