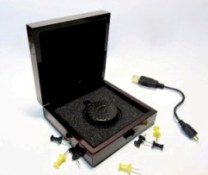 Edic-mini Tiny16 A52 followed its predecessor digital recorder Edic-mini Tiny A21 to develop the idea of "decorative electronics".
The recorder's case is made of embossed leather which makes it pleasant and comfortable to touch. The recorder goes on sale in a beautiful wooden case.
Main competitive advantages:
- Easy to control: membrane-type control button located in the center of the case. To start or stop recording just press the leather surface of the case
- Autonomy up to 65 hours. The recorder is powered from Li-Pol rechargeable battery
- High microphone sensitivity (up to 12 m)
- The recorder can be an excellent present due to the leather case & beautiful wooden box the recorder goes on sale 
- The built-in AGC system enables it to adjust the amplification of the microphone real-time depending on the environmental factors
- The recorder can be used as a flash media to store and transfer data of any standards (under "RecManager" control)
Please find more information about the recorder 
here
.
Back to the news list