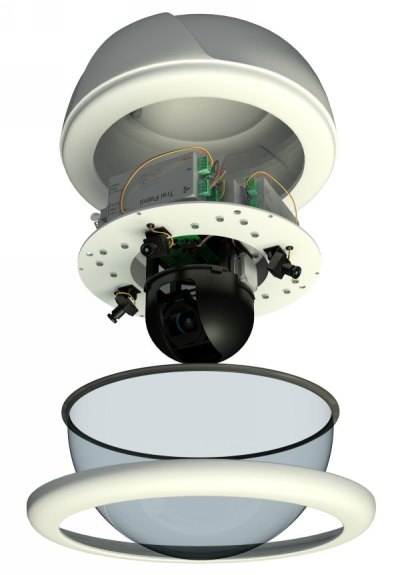 Online video surveillance system Tral Patrol 2 is a detector providing the focus of high-speed dome camera to the moving object by analyzing video image from the review camera.
The system is characterized by: automatic motion directed dome camera, autonomous optical mechanics node, look-up angle up to 360° and ability to distinguish a man's face from the distance of 100 meters.
Tral Patrol 2 provides the user with a wealth of advantages: 
Controlled camera focuses automatically on the moving object multiply zooming it and ensures recognition of a man's face within the radius of 100 m. 
The device settings allow specifying priority zones
The tracking system provides area surveillance at the square of 1 hectare ( the detailing is similar to the standard camera picture from 3-5 meters)
The device has two modes: Day and Night, depending on the level of illumination 
Tral Patrol 2 requires minimum number of settings when performing self-supporting installation 
The detector can be supplied either separately or as a constituent part of the system 
The system provides 24/7 work without operator control
Tral Patrol 2 includes:
High-speed dome camera
4 review cameras
3 detectors "Tral Patrol"
1 "Tral Patrol Master"
Video server "Tral 5"
Network concentrator 
Power supply block
Special Offer for Dealers:  the first 10 customers will get an attractive price!
Please see more details 
here.
Back to the news list