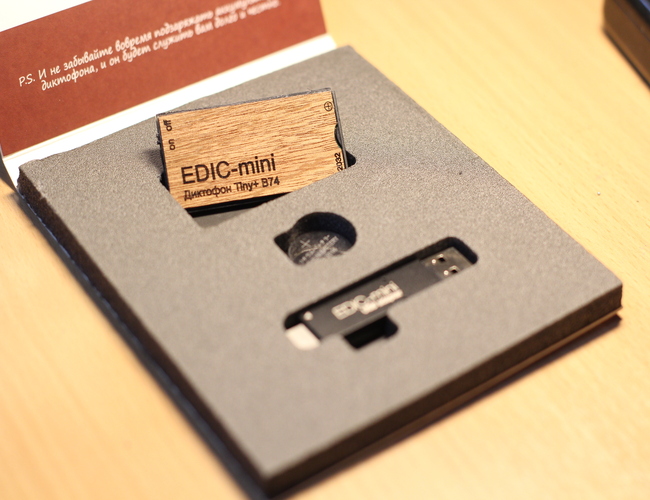 Dear Partners!

Please be informed about new modification of Edic-mini Tiny+ B74 voice recorder!
Professional voice recorder Edic-mini Tiny+ B74-150HQ features tiny dimensions (56x26x4 mm) to represent the thinnest of all the Edic-mini recorders. Despite its small size, B74 is able to carry out continuous high-quality audio recording working from a standard battery for more than a day. Ease of use and wide set of features make it convenient and effective to record in different situations, for example, phone calls, holding it against mobile phone and record both sides of conversation.
Main characteristics:
• Due to the miniature size and light weight the device is very mobile and easy to use.
• The recorder's microphone is distinguished by high sensitivity and low noise level providing professional audio recording from up to 12 meters.
• Low power consumption: in spite of miniature size, the recorder is able to operate continuously for 25 hours.
• The device is extremely simple to use: recording is easily and quickly activated using a slide switch.
• B74 supports the system of digital markers: inaudible markers are added to the record allowing it to identify the record's time and date as well as the recorder's type and its serial number; and the attempts to modify it.
• To power the recorder a widespread CR2016 battery is used, which can be replaced by a new one in a second to promptly continue recording. Therefore, having fresh power supply, you can record until memory is full.
• Application of the USB 2.0 adapter allows it to quickly upload records onto the PC.
• With the help of special software the user can easily adjust the quality and time of recording, enable and configure professional functions depending on the surrounding conditions and in accordance with the requirements.

Please see the detailed description on our web-site here
Back to the news list