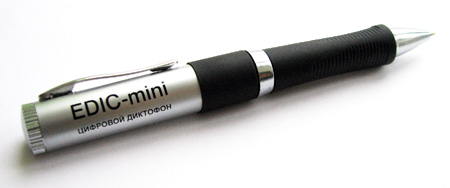 The A35 audio recorder is our exclusive Special Offer – this model is designed as an attractive pen.
This model singles out against the others – it will serve you an inconspicuous witness in many situations: at the negotiations, at the interview with a person, examination at the court, at the lecture or simply in your office every day.
Such a pen will become an indispensable assistant for private investigators and journalists. The application is broad!

Compared to other gadgets that are available in the market this product is it has:


   Longer recording duration: up to 1200 hours.
   High quality recording because of 16 bit audio codec.
   Simplified functionalities.
   High sensitivity microphone (operating distance is 10- 12 m).
   Build in AGC system, which allows dynamically regulate the amplification (starting from +10 dB) depending on the sound volume: it is possible to justify recording loudness at different distances, to eliminate overloading n in the near-field region and to improve audibility in the far-field zone.
   Voice Activating System
   Timer to turn on the recorder
   Password protection                                                                                                 


Technical Characteristics:


| | |
| --- | --- |
|  Case |   Metal |
|  Dimensions, mm    |  145x14 |
|  Weight, grams |  30 |
|  Record time  |   from 150 to 1,200 hours |
|  Battery life in record mode, hours |  48 |
|  Power supply |  140 mAh Li-Pol rechargeable battery |
|  Data transfer rate to PC |  via built-in USB slot |
A35 recorder is a perfect present: it is packed in a souvenir metal box
You are welcome to find more detailed description at our website
here
.
Back to the news list