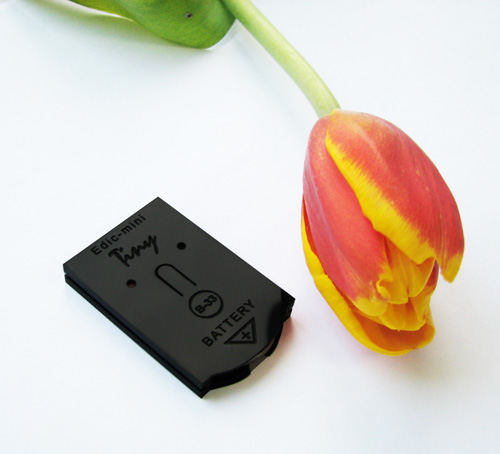 TS-Market has added a novelty in the existing series - Edic-Mini Tiny, which is the Guinness Book of Records holder. Audio recorders of this series were rewarded as having the world's smallest size and weight.

The new miniature audio recorder B33 is the simplest solution for audio recording - its size is 44x28x6.5 mm, weight - 7gram. It has a single improved and unbreakable push-button, which starts and stops recording and makes В33 a practical and a long-serving device.

The recorder is produced in two variations: in a black rectangular polished plastic case and in a silver or golden rectangular metallic case. Both are durable and are designed to attract little attention.

B33 supplies power from 1 CR2032 battery and can be operated with slight pressing the membrane button, situated on the recorder's case. This stylish device can be worn as a key trinket or a small textile strap can be used for wearing the recorder around the neck.   

B33 has the following maximum record time when sampling rate is 8 KHz and compression is 2bits ADPCM: 150h, 300h, 600h, and 1200h.

The application of this miniature audio recorder is broad: it can be used by security, police and investigation professionals as well as by amateurs for everyday usage. Edic Mini Tiny will serve as an invisible witness to evidence uncertain or unique situations.


Back to the news list