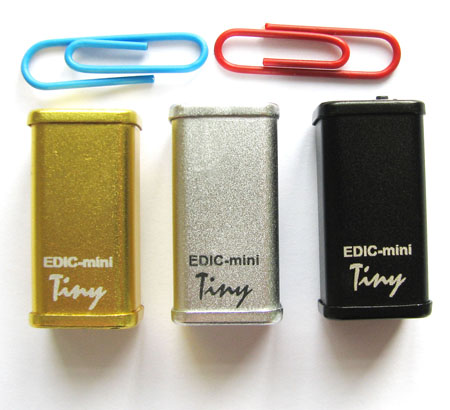 We present world's smallest voice recorder Edic-Mini Tiny A31. We have beaten our own record - it is 12% smaller than its predecessor, which is the Guinness Book of Records winner - B21!

Being extremely miniature, the recorder supports all the technical characteristics of the Tiny series. The recorder's built-in battery provides autonomic work during 25 hours.

Try Edic-mini Tiny A31 - world champion with high recording quality, a connector for an external microphone, and a built-in flash memory that provides up to 1200 hours of recording. Available in three colors: silver, golden and black.

The recorder has one control button. To upload the recorded data, use a shipped USB cable.

Main Characteristics:


   Metallic case;
   Dimensions: 29х12х15 mm;
   Weight: 6 g;
   Low power consumption
   High sensitivity microphone
   Wide frequency band
Optional accessories:
•    External microphone with compressor (+/- dB) for Edic-mini Tiny
•    Programmable external microphone with AGC for Edic–mini Tiny
You are welcome to find more detailed description at our website
here
.
Back to the news list