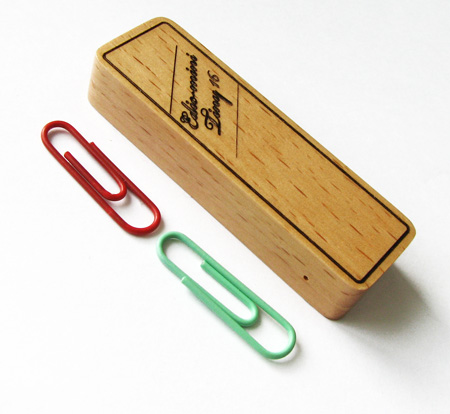 Today we proudly introduce our novelty.
 
Tiny16 series is very popular among audio recording professionals as well as amateurs because of its high technical characteristics: 16 bit audio codec, which provides high quality recording, build-in AGC system, that allows to adjust the record mode to the environmental conditions and high sensitive microphone (10-12 m). This is why we are eager to add the brand-new model, which will answer the requirements of this series – A40.

This rechargeable battery-powered device can record up to 70 hours to the build-in flash-memory with up to 1200h capacity. The absence of standard USB slot makes it look a beautiful accessory. A40 is ideal as a stylish gift. And above all, wooden case is the most ecological and natural material.
Carving will be optional according to the customer's wishes - we are ready to fulfill any of your cherished dreams.

Characteristics:


   Wooden case
   Dimensions: 62 х20х11 mm
   Weight: 11 grams
   Operating temperature range: 0…+40˚ C (32…+104˚F)
   Recording mode: Mono
   Recording time: from 150 to 1,200 hours
   Battery life in record mode (sampling rate 8 K Hz, without compression): 70 hours
   Battery life in record mode with VAS (audio signals below threshold): 20 days
   In stand-by mode: up to 2 years
   Power supply: 140 mA/h Li-Pol rechargeable battery
   Built-in microphone sensitivity: 9-12 m
Find more details
here
.
Back to the news list