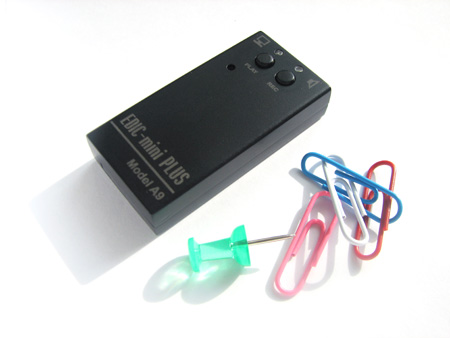 The first representative of the series – A9 Model.

Our experience and new technologies application helped us to noticeably improve the quality of audio recording and make the recorder's autonomy more reliable by means of reducing power consumption.

Edic-mini Plus recorders have USB 2.0 interface, 16 bit audio codec, which allows to digitize the signal more precisely, date label – the date of the beginning and end of the recording. Capacity of the built-in memory has acquired record-breaking size - 100 days. Miniature sizes, opportunity to play the recording back promptly, using the headphones and a wide range of accessories.

The new A9 model is performed in durable metal case and can be fixed as a key-trinket. Now you can continuously record for up to 210 hours (more than 8 days)!


  Easy to charge, using the USB cable. New function - time marking.
  Wide range of accessories.
Technical Characteristics:
   Dimensions: 11x37x56 mm.
   Weight: 29 gram.
   Metal case.
   Power supply from built-in from 520 mA/hour Li-Pol battery.
   Recording time in VAS mode(audio signals below threshold): up to 430 hours
   8 user settings of recording parameter.
   Opportunity to delete recordings optionally.
   Build-in USB 2.0 interface allows high-speed data exchange between the recorder and the computer (5.5 Mb/sec).
   Built-in microphone operating distance: 7-9 m.
   Convenient working menu.
Additional Accessories:
   External microphone
   Remote control unit
   Telephone line adapter
Edic-mini PLUS Series description - here. Edic-mini PLUS A9 description -
here
.
Back to the news list