We offer recorder for real information hunters!
If you find a place to put the recorder – all that remains to be done - is to press one button on the remote control to start recording, wherever you are in the room!

Briefly about its main advantages:
1. Has a built-in transmitter and receiver of remote control commands

Fast Start/Stop recording as well as checking Mode and Battery level with Remote Control.
The Remote Control provides vibration response to each command.
2. Reinforced titanium case
Protects recorder against audio recorder's jammers and recognition by some non-linear junction detectors.
3. 153 hours of continuous recording from rechargeable battery
16kHz sampling rate, ultra-low power consumption
4. Ability to set secret user PIN
If PIN is entered 3 times incorrectly, all files are deleted from recorder's memory automatically
5. Invisible for detectors of kinematic recorders
Audio information is recorded to the built-in memory, which makes Papyrus invisible for detectors.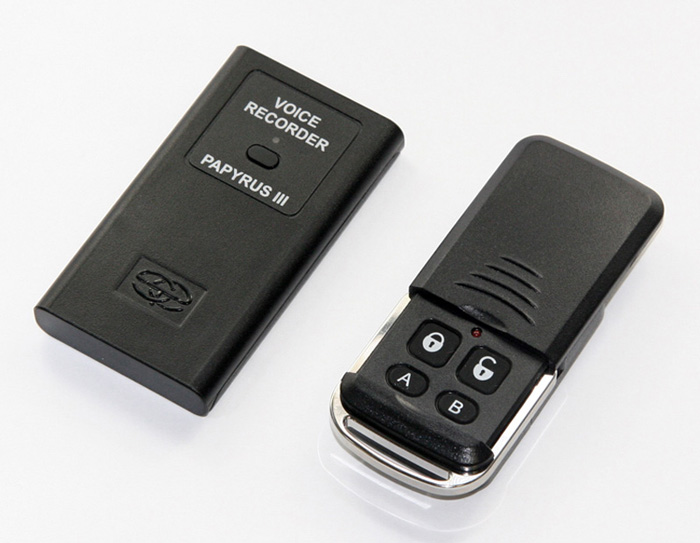 Specifications:
Size of built-in memory, GB

32

Sampling rate, kHz

16, 32

Recording time, h

76 hours at 32 KHz sample rate

153 hours at 16 KHz sample rate

ADC, Bit

12

Dynamic range, dB

82

Power supply

built-in Li-Ion battery

Current consumption in recording mode (with fully charged battery), mA

Up to 10

Downloading time of recording from full memory, min

Up to 80
Please find detailed description here
Back to the news list