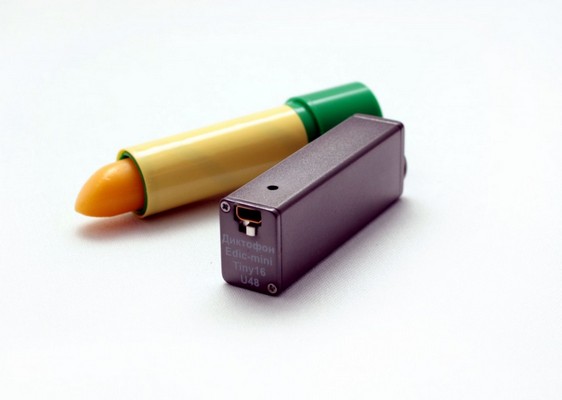 Created in alliance of know-how and fresh ideas!

On the way towards perfection there can be no better solution than the combination of know-how and new ideas. Thus, basing on the successful EDIC-mini Tiny16 В43 voice recorder EDIC-mini Tiny16 U48 voice recorder has been created.

The recorder has adopted the best properties of its prototype model:
durable metallic case, convenient switch and power supply from widely used AAA battery available in any shop.

At the same time we have scaled-down the dimensions of U48 and increased the autonomy high enough, though it was big enough before. Such detail as ionistor was added. It provides operation of the voice recorder during battery replacement during up to 5 minutes, which secures the built-in clocks/calendar data.


Technical characteristics


Dimensions

54×13×18 mm


Weight

12 g (battery not included)


Case

Metal

Frequency characteristics

·      Sensitivity of built-in microphone up to 12m

·      Sensitivity of external microphone up to 15m

·      Signal-to-noise ratio -80 dB

·      Frequency band when recording 100 – 10000 Hz
Maximum recording duration in hours (sampling rate 8 kHz, 2 bit ADPCM

·

     

300h (2Gb)


·

     

600h (4Gb)


·

     

1200h (8Gb)
Additional functions

·      Universal supply - AAA rechargeable or standard batteries

·      Built-in AGC system

·      Voice Activating System VAS

·      Password protection

·      Daily timer and once timer

·      The option to use as a flash-drive

·      Linear and circular recording

·      "Digital signature" of recordings
Please see more details
here.
Back to the news list