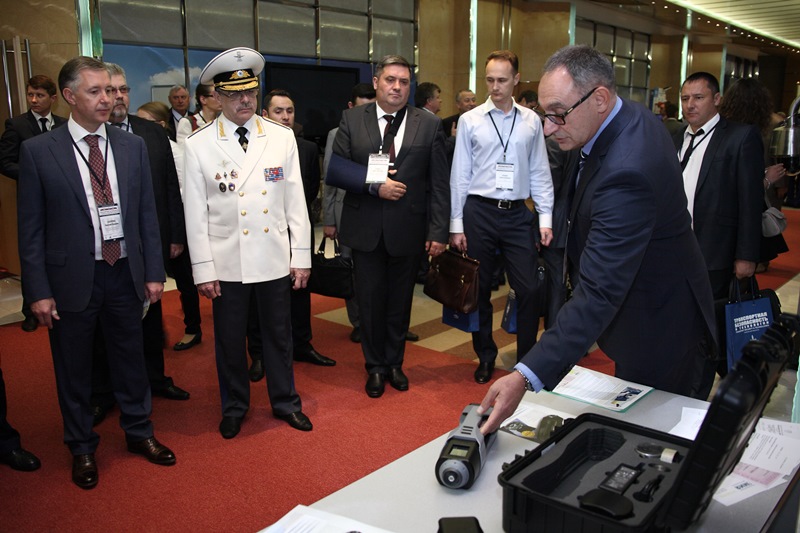 We are proud to introduce new product of Russian origin with best characteristics compared to domestic and foreign analogues:
Explosives Detector BIRUCH
- Explosives Detector C04 is certified in the Federal State Unitary Enterprise "State Research Institute of Civil Aviation" for compliance with the special technical means to ensure aviation ecurity.
- The detector has been tested in FSB RF to meet the requirements of the means of transport ecurity.
- The stated sensitivity is confirmed by test protocol of FSUE "VNIIM named after D. Mendeleev".
- Having successfully passes the tests in real conditions during the postal items control and ransport inspection.
BIRUCH is intended to detect traces of explosives in gas phase during inspection of personal belongings, baggage, mail, parcels, packages, vehicles, buildings, etc.

Device operation is based on the principle of nonlinear dependence of ion mobility on the electric field. Despite the application of radio-emitting source, detector is absolutely safe for the operator and has special confirming certificate.
Characteristics:
| | | |
| --- | --- | --- |
| Parameter | Unit | Value |
| Sensitivity to TNT vapors, at least | g/cm3 | 10-14 |
| Analysis time, up to | sec | 2 |
| T detectable substances | - | TNT, RDX, HMX, PENT |
| Signal indication of a target substance detection | - | sound, light |
| Distance of vortex sampling, at least | mm | 60 |
| Range of operating temperatures | °С | 5 .. 50 |
| Battery life on a single battery | hour | 3,5 |
| Dimensions, LxWxH, up to | mm | 350x103x94 |
| Weight, up to | kg | 1,7 |
Competitive advantages over the domestic and foreign analogues:
• Highest sensitivity;
• The best-in-class weight and size characteristics;
• Remote sampling;
• Detection of the traces of low-volatile explosives on the surface using a piezo desorber;
• Identification of the explosives by using defining points;
• Self-cleaning and automatic protection against concentration overload
See the comparison table with the rival products here

Back to the news list